EXTERIOR HOME INSTALLATIONS IN CALGARY
Looking for a reputable company who does top-quality, hassle-free exterior renovations? Look no further! RidgeCrest Developments is your go-to home renovation company for all your siding and exterior needs in the Calgary region and Bow Valley. We provide a wide variety of home renovation services such as Hardie siding, stucco, painting, windows, doors, stone, decks, outdoor lighting and roofing services in Calgary and the surrounding region. No matter how small or large your project may be, we will take care of all your needs. There is no substitute for experience and that's what makes us one of the top exterior contractors in Calgary.
We have a commitment to excellence in everything that we do: from the quality we expect on our finished projects to the exceptional levels of customer service that we hope leave a lasting impression. We will work hard to provide you with the best detailed work and experience possible. From the time we begin our work to the time we leave, our expert team will be there to answer your questions and guide you through the whole process. As one of Calgary's best home renovation companies, our goal is to make sure you're happy with your completed project. We use the highest quality materials, and our team members are trained specialists who will treat your home like it's their own.
WITH RIDGECREST, BEAUTIFUL EXTERIORS ARE MADE EASY
What sets RidgeCrest Developments apart is both our exceptional workmanship and our no-stress, no-headaches, unparalleled service for home owners, property managers, condominium boards, and other clients. We provide in-depth industry knowledge; excellent communication and responsiveness from start to finish; and close consultative collaboration with home owners, property managers, condo boards, architects, engineers, project supervisors and inspectors – resulting in timely, cost-effective, and aesthetically smart exterior installations that consistently delight our clients.
The crew was quick, polite and very clean. Also went the extra mile on small finishing items. We are so happy!
Taylor
100% we would recommend RidgeCrest to anyone looking to upgrade their exterior! Their workmanship and client service is outstanding.
Trisha and Colin
Everyone worked extremely hard, and cleaned up their work space every night before leaving. Any concerns I had were quickly addressed. The results were everything I had hoped for.
Al Downey
Standard of excellence, integrity, quality workmanship. Experienced and able to give many examples of completed works in my community. Just a phone call away from any concern. Trustworthy. I felt listened to, and got beyond expectation results!!
Brenda Smith
The crew and sub-trades worked meticulously and efficiently, and kept a tidy job site. I really appreciated working directly with David, the owner. He was very responsive to all our queries and provided some excellent design advice. We were completely satisfied with all the work and would not hesitate to recommend RidgeCrest for any exterior renovation.
Dave
The above are just a small sample of comments on HomeStars from RidgeCrest Developments' absolutely thrilled customers. We have served the Calgary region and Bow Valley since 2006 and are prepared to quote on any of your upcoming exterior projects. RidgeCrest is proud to provide information about our current and past projects, including a catalogue and photos of our exterior house renovations, condominium work, and client references.
We have a hands-on, professional management team and top-notch in-house installers who fully understand current building envelope codes in the following:
Hardie Siding, Shingle and Panel
Roofing (Slope and Flat) – Laminate shingles, Boral clay and concrete tiles, composite slate and shake, 2-ply cold-apply membranes, EPDM
EIFS and Traditional Acrylic Stucco Systems, with extensive stucco repairs as required
Stucco Repair and Painting – Elastomeric, Acrylic
Stone Veneers – Broad selection of Real and Architectural stone
Vinyl Siding – Premium and Standard Lines
Rainware – Aluminium and cedar soffit, aluminium and Smartboard fascia, aluminium eaves-troughs
Full Range of PVC and Metal Clad Windows and Doors, Overhead Garage Doors
Exterior Painting (wood, stucco repair and paint, metal railings)
Decks – vinyl membrane, composite and wood decking, aluminium, cedar and composite deck rails.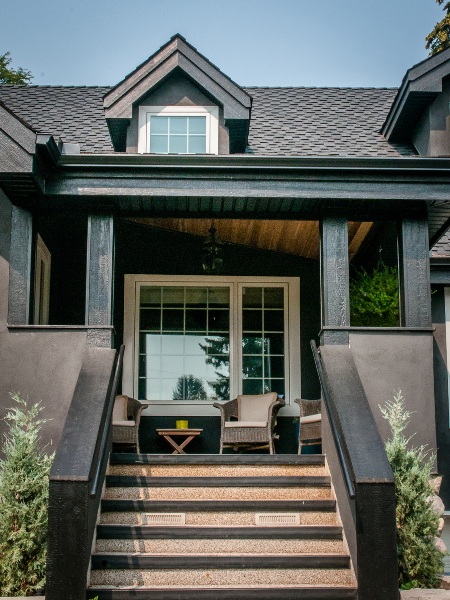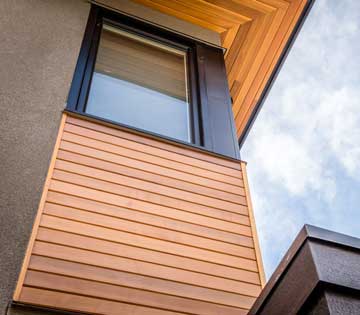 OUR STRENGTHS
RidgeCrest offers many strengths to homeowners to ensure your results are of highest quality and not just a new exterior.
These strengths include:
Advanced product knowledge reaching beyond entry-level market products
In-house installation teams that pride themselves on quality and efficiency
Professional management team with extensive knowledge of the entire exterior envelope
Job references that offer an extensive "Real Life Show Room" for homeowners to conceptualise their beautiful new exterior
OUR SERVICES
We offer many different services to meet all your exterior home renovation needs in Calgary. Whether you are building a new home and need a completely new roof installed, or simply need a shingle replacement and repair, we can handle it. RidgeCrest Developments offers homeowners the full spectrum of residential exterior renovation services. From that complete picture experience and perspective we can recommend choices that tie in well aesthetically and functionally with the other exterior elements on your home. Our full exterior envelope installation services begin with a no-charge consultative sales process that contributes to a high value-to-cost ratio. If you're in the Calgary area and need help with your exteriors, give us a call today!
Your roof is the first line of defence against Mother Nature to protect your home or business's interior and eventually, it's going to need some attention. If it doesn't get the right attention in time, a damaged roof can lead to more serious and more costly structural problems. Don't wait until your roof starts leaking before you fix it. Contact RidgeCrest Developments today for a free quote for your roof replacement or roof repair in Calgary.
Siding can be a major element in your home's appearance, and there are many advantages and disadvantages to each style. RidgeCrest Developments is your best choice of siding installers in Calgary to help you navigate the various choices in siding – with attention to aesthetics, quality, and durability. Let RidgeCrest Developments guide you through the decision-making process to beautify your home.
Looking for a reputable stucco repair or stucco painter in Calgary? RidgeCrest Developments provides the highest quality of customer service and our team of highly-skilled professionals will ensure that your stucco installation, repairs or painting is done right the first time.
Adding stone to your exterior renovation provides you with a lifetime of beauty. The transformation will astonish you in how well it accents your home. Stone veneers provide a unique design that will add value through lasting quality and true sustainability. RidgeCrest Developments has installed stone on numerous homes across the Calgary region, and we have years of experience in perfecting exterior home renovations.
Protecting your home from the elements will ensure the longevity of your home. Especially in Calgary, where we frequently see hail storms followed by beautiful clear blue skies, paint is often faded, peeled or cracked. As one of Calgary's top exterior painting companies, we rise above the rest with our top-level painting professionals on staff. We guarantee that your home's paint job will look flawless.
Thinking of replacing your windows and/or doors? RidgeCrest Developments can help you choose the type of windows and doors that are best suited to your home's current style or that fits the exterior remodelling of your home. Our team will ensure the precise fit and ideal look for your home. Our professionally-trained windows and doors installation crew will help enhance the beauty of your exterior while also lowering your energy bills.
RidgeCrest Developments has become one of the best deck designers, deck builders and deck repairers in the Calgary and surrounding area. If you've made the decision to install a deck but aren't sure what the next step is in the deck installation process, let RidgeCrest help you through the process as one of Calgary's trusted deck builders. We are experienced, highly-skilled with a proven track record of providing top-quality decking.
With our commitment to " Beautiful Exteriors Made Easy " and vast experience in home exterior renovations as well as condominium and large-scale residential projects, RidgeCrest Developments can transform and greatly ease your experience in completing any type of complex exterior renovations.
We would be happy to meet anytime to provide information on our services and answer any questions. Please feel free to contact us by phone (403-244-6443) or email (info@ridgecrestcalgary.com) for more information.