STONE INSTALLATIONS
RidgeCrest incorporates rock into most of our exterior designs as it creates a beautiful accent to your home. Adding exterior stone to your residential project transforms various aspects of the exterior into amazing eye catching decorative elements on your home. From stone chimney facades to exterior accent walls, our rock installations ensure your exterior renovation project provides you with a lifetime of beauty.
Stone veneers in Calgary can range from affordable to custom cut. Picking the right stone can be difficult and you may be asking yourself: what type of stone should I choose for the exterior of my home? What colour stone is best for my house? What about choosing between the different looks of stone? Thankfully, our RidgeCrest masons are veterans in the industry and will be with you every step of the way to help you decide on the best design to fit your home's style.
Which Stone Should I Choose For My Exterior?
Choosing between natural stone and manufactured stone can be difficult, but both add value to your home with a high-quality and sustainable exterior finish.
Natural stone provides a unique design to your home as no two pieces are alike. It can withstand the drastic weather changes we see here in Calgary: from the effects of the sun, water, snow and hail.
Our manufactured stone products provide you with that natural stone look at a more affordable rate.
What is the Best Style of Stone in Calgary?
Your exterior stone choices are seemingly endless with RidgeCrest.
Choosing the right stone for the visual appeal you desire is important for your business or home to maintain that image or feel. The architectural style you choose for your exterior renovation will help us narrow down the most suitable types and styles of stone for you to select from. When selecting stone to add to your project, you will be adding value through lasting quality and true sustainability.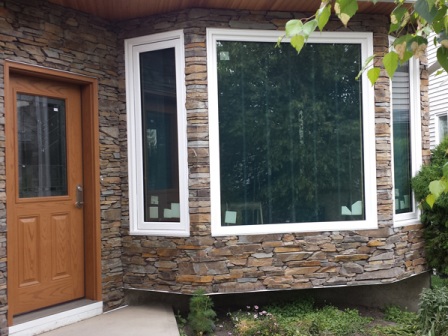 What Colour Stones Can I Choose From?
There is a large spectrum of stone colours available to choose from and can range from black, copper, light grey, red, neutral, off white and various colours in between.
PAST PROJECTS: STONE IN CALGARY