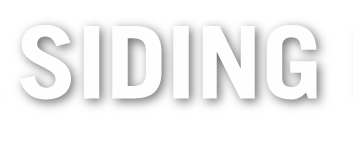 SIDING INSTALLATIONS
In Calgary, where we know all too well that our homes are frequently exposed to harsh weather conditions such as hail, snow, rain, and strong winds, siding issues and damage are common. Replacing siding that has been worn or aged can significantly improve your home's energy efficiency, comfort and safety.
Siding can be a major element in your home's appearance and purchasing the right type and style can be daunting. RidgeCrest is here to help you understand the aspects of the various types of siding in Calgary to give you the confidence in making an informed decision. We will help you to choose the most appropriate siding for your style of home and preferences. Siding is available in a variety of colours and styles, and you can even use panels that mimic building textures that would be costly to apply.
WHAT TYPE OF SIDING SHOULD I CHOOSE FOR MY EXTERIOR?
There are many siding installation choices available for businesses and homeowners who are concerned with energy efficiency or durability and there are advantages and disadvantages to each type of siding. We have a large network of siding vendors and manufacturers to give you access to a variety of choices.
James Hardie Fibre Cement Siding
RidgeCrest is big on the value of high appeal make-overs that we can offer with our James Hardie Plus exteriors. James Hardie creates innovative fibre cement siding products that increase the beauty, value, safety and durability of your home. Enjoy the low maintenance that comes with baked on colours, and feel safe knowing that Hardie siding products are resistant to just about anything that mother nature can throw at them.
Benefits:
Durable
Low maintenance
Water resistant
Termite resistant
Fireproof
Rot resistant (lasts up to 50 years)
The most eco-friendly siding option
Considerations:
Costly
Dusty during installation
Highly skilled installers required
Aluminum Siding
Aluminum siding is most popular on modern and retro type buildings as it can imitate the look of wood clapboards. It can come in a wide range of colours and textures to suite the style of your home or business.
Benefits:
Doesn't rot or rust
Low maintenance
Ideal for wet climates
Moderately priced
Fireproof
Considerations:
Can be noisy
Easily dents and scratches
Fades
Conducts electricity
No insulating qualities
Vinyl Siding
Similar to aluminium siding, vinyl is typically used to imitate the look of wood siding, but without the price tag. It comes in endless varieties of colours as well and is a great alternative for your exterior renovation project.
Benefits:
Durable
Low maintenance
Doesn't rot or flake
Inexpensive
Termite proof
Considerations:
Fades
Not environmentally friendly
Sensitive to direct heat
No insulating qualities
Stone Veneer Siding
Stone Veneer siding is aesthetically pleasing to choose as your siding material and weathers handsomely. It has a timeless appeal that can create a sense of connection to the past.
Benefits:
Durable
Low maintenance
Good insulation
Doesn't rot or fade
Fireproof
Can last the life of your home
Considerations:
Costly
Highly skilled installers required
Cedar Siding
The natural beauty of cedar siding is incomparable to other siding options. Cedar siding in Calgary is very versatile in style and is often used on a variety of different types of building structures to create both traditional and modern designs.
Benefits:
Durable
Resistant to decay
Can last up to 60 years
Considerations:
Costly
Less resistant to fire
PAST PROJECTS: HARDIE SIDING IN CALGARY